Enlightened Millionaire Institute
I worked with the Enlightened Millionaire Institute and spent quality time with Robert Allen (author of No Money Down)and Mark Victor Hansen (author of the New York Times bestsellers Chicken Soup for the Soul and The One Minute Millionaire), both whom I have respect for. Mark wrote a book called The Miracle of Tithing" A Little Book of Answers to Questions about Tithing, which I have in my library and still cherish. There is a link to "The Miracle of Tithing" in my book store.
Here are some charities you can tithe to:
www.dosomething.org
www.pajamaprogram.org
www.yourfamiliesfuture.com
www.readglobal.org
www.wcswr.org
www.northernwestchestershelter.org
Citizens Committee for New York City
I was invited by Judy Maysles, a friend and fellow real estate associate, to attend the "Citizens Committee for New York City" awards dinner at the Waldorf Astoria in New York City. It was a fabulous evening and what I was most struck by is the generosity of New Yorkers, not only in giving but in generously giving of their time. I have added this organization to my list of charities. Citizens Committee for New York City 305 Seventh Avenue,  15th Floor New York, New York 10001 Donations attention to: Development Department – 212 989 0909 info@citizensnyc.org www.citizensnyc.org Donate online: www.citizensnyc.org/about/donate.html
"Lemonade Day"  in Houston, Texas (May 1, 2011)
After reading a Wall Street Journal article about "Lemonade Day", I fell in love with the project.   I flew to Houston to meet with Michael Holthouse, Founder of Lemonade Day, and his Chief Expansion Officer, Julie Eberly, for their 2011 kick-off program.  Interested donators flew in from all over the nation to attend a dinner at Mr. Holthouse's lovely home.  On Saturday night, a fabulous band played while the guests ate from  a scrumptious buffet centered around the pool.  Sunday morning, Michael started the day with a presentation at breakfast including guest speakers, then treated us all to an air-conditioned  bus ride through Houston to see the students in action and drink their delicious lemonade .
Last year 500,000 students earned over $4.1 million dollars and donated $1 million to charities of their choice.    The most recent kick-offs were in Los Angeles, Aspen and Chicago.  Mr. Holthouse and the foundation have taught the students to spend a little, save a little and give away a little.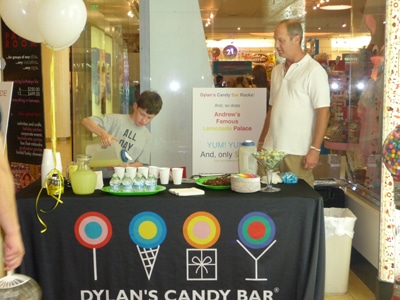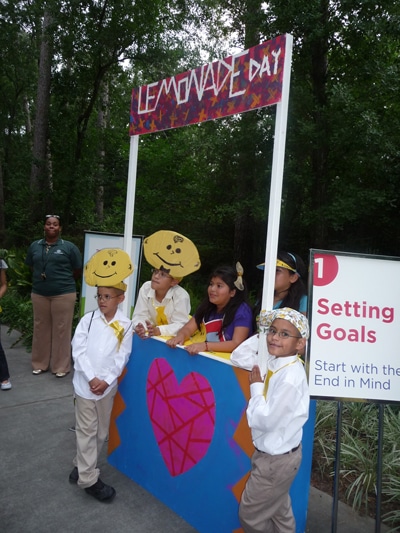 Northern Westchester Shelter
After watching Oprah's Big Give reality show, my husband, Glenn Dubak, and I decided to up our tithing. We decided to give an event at his bowling alley, Cortlandt Lanes in Cortlandt, New York. The event was a huge success and families and friends turned out to donate their time and money to have fun and contribute to the Northern Westchester Shelter (Carla Horton, Executive Director) a temporary home to families needing to get a new start. Stephen Paletta, the Oprah Big Give winner co-hosted the event with us.
Habitat for Humanity
Stan Ponte, President of Coldwell Banker Previews International, founded Brokers Build as a way to bring New York brokers together to give to a charity. I was privileged to be a member of a committee to bring the brokers together and to attend many events to raise money for Habitat for Humanity. I participated in on site "hands-on" work at a Habitat for Humanity building in the Brownsville section of Brooklyn, New York. Believe it or not, I learned how to put up sheet rock. I gained a new found admiration for contractors who spend their day working like this. It took a whole day just to put three walls up. You can imagine the expertise it takes to get the building done. We all had a great time with great camaraderie toward a common goal. GO TO BROKERSBUILD.ORG Go to: Donate to a broker builder on left hand side in box Put in Claudia Fox and click on "Search" Do not use Claudia Fox-Dubak OR To donate: www.habitatnyc.org To see my participation go to "Press at Habitat NYC" click on" Past Media Coverage", then scroll down to August 7/2008 Real Estate Agent- turned-hardhat and click on "Audio Slideshow".
Boys & Girls Club, Stamford, Connecticut  (March 2011 and October 2011 programs)
I created and implemented a Career Program for teens who were graduating from high school in May, 2011, at The Boys & Girls Club in Stamford, Connecticut.   Boys & Girls Club students learned how to get a job as well as how to start their own business.  The group joined together for three months starting in March and ending in May.  One of the most successful nights was when thirteen successful entrepreneurs spoke to the students about how they became successful.  The students learned about many different careers, how to go about getting started and just how difficult it is to have your own business.  The students also spent time creating visions boards by collaging from newspaper clippings to display their future visions.